Blog Post
Unlocking the potential of peer learning
02.07.15
Sara Robinson, our National Peer Learning Coordinator gives us the low down on peer learning and why it's so important to Creative People and Places.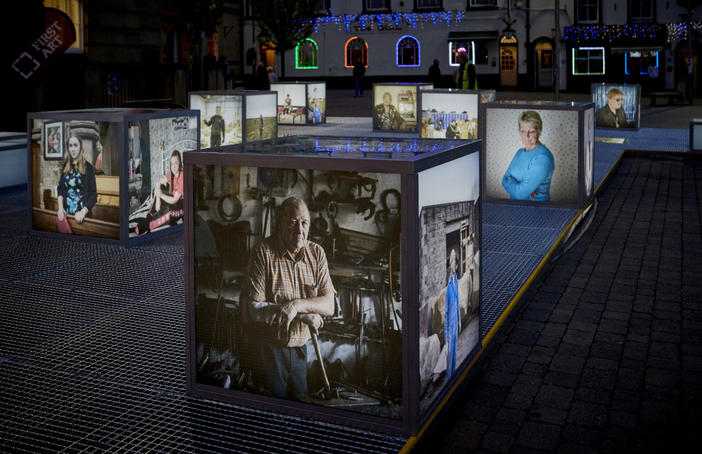 There are over 200 people working for the 21 independent Creative People and Places projects (including representatives from partner organisations), and although each one is very much rooted in its locale, everyone within the wider network is working to achieve similar goals.
What is Peer learning?
It's what happens when people undertaking similar activities, share and reflect upon their knowledge and experiences directly with one another as fellow learners. It's a non-hierarchical and participant driven activity in which everyone can be both teacher and learner.
It can be so gratifying when you find yourself sitting next to someone tackling the same issues and challenges as you are, and that's essentially what we do through our national peer-learning programme.
What does that mean in practice for Creative People and Places?
We make connections between network members, by bringing them together for symposiums and themed gatherings, which they shape and lead. For example, the North West projects in St Helens, Blackpool, Burnley and Kirklees co-organised a day for 80 of the network looking at Artistic Quality, and the North East based projects in Sunderland, Northumberland and East Durham ran a day on sustainability.
In addition to our annual conferences (this year's was run and hosted by Appetite in Stoke), we've also had peer-learning gatherings on data collection and communications, and our Project Directors across the network come together three times a year to share learning and mutually support one another.
Our peer learning takes place online too. We have a Creative People and Places online discussion space, which people in the network use to share documents, videos and events, ask questions and jointly problem solve.
What impact is the peer learning activity having?
"One of the most positive elements of the peer learning programme is the sense of community and trust it is building across the network of projects, and the mutual support as we grapple with our various challenges."
We are learning much from one another by openly sharing our successes and failures, supporting one another to problem solve, and by collaborating on projects. Regional clusters of Creative People and Places projects are forming to share roles and commission work jointly, and later 'rounds' of newer projects are saving considerable time and money by learning from what's already taken place.
"I cannot state enough how useful it has been to learn from the other projects and have the space to stop and reflect together. In particular, the learning from earlier programmes helped us to re-shape our plans, having heard how, with hindsight, they would've done things differently. This learning particularly came from the openness and honesty of the Project Director sessions. The number of people sharing 'hold your nerve' messages.. were particularly comforting!"
Project directors sit on other national strategic alliances (like Artworks and BBC Get Creative) as representatives of the whole Creative People and Places network, so information can flow backwards and forwards effectively. National initiatives with complementary aims including Fun Palaces, 64 Million Artists, Voluntary Arts and Rightster's Canvas, have been introduced to the network and subsequent peer collaborations are taking place.
As we gather up our learning into digestable formats we'll make it freely available beyond the network to anyone interested in our work.
The elements of successful peer learing
As the National Peer Learning Coordinator, I'm learning too. I've discovered that Peer Learning works best when:
people are enabled to build relationships - a simple contact sheet and initial meeting is often all it takes
a culture of openness and honesty is cultivated
people commit to contributing and taking time out to gather, no matter how busy they are
activity is self-generated and self-led but simultaneously nudged along by the coordinator at the hub of the network
the coordinator listens hard and identifies common themes
gatherings are focused, relevant and productive
I hope increasingly, we feel part of a peer learning movement which is bigger than the sum of our parts and reaches far beyond our network; a movement which is boldly testing out fresh ways of engaging people in the arts and putting communities in the driving seat. 
Sara Robinson works one day a week for Creative People and Places and can be contacted on sara@creativepeopleplaces.org.uk or 07974 253089