Art on the move
A short film about transforming lorries into mobile artworks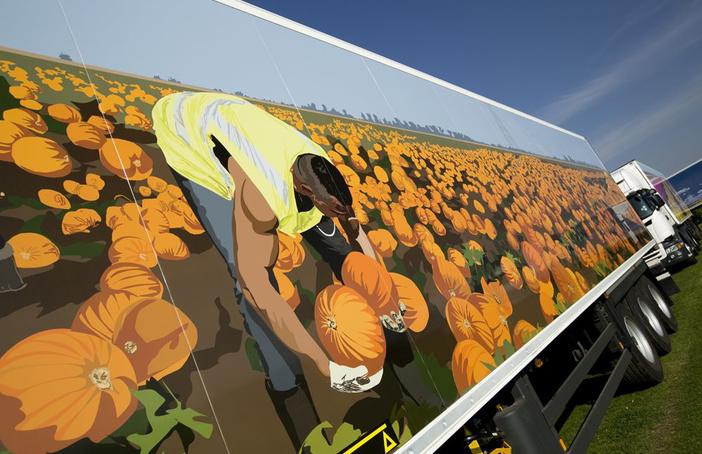 Ten lorries have been transformed into mobile artworks celebrating Lincolnshire landscapes, as part of a partnership between Transported and FreshLincs. Watch this short film to find out more.
The project
Transported is all about transporting art to where people naturally meet, such as workplaces and town centres, transporting artists to more rural communities, and – as in this project – literally transporting art, through custom wrapping of lorries and turning them into moving canvasses.
Working with Lincolnshire based haulage company FreshLinc, Transported commissioned artist Alisha Miller to come up with ten new artworks in consultation with local people. She drew upon their stories and memories to create the digital designs for each one, going out with farmers, pickers, packers, and others. She used postcards for people to write down ideas in response to the question: 'If I was to create a landscape about Lincolnshire what would I need to include?' both at work and at Spalding Pumpkin Festival. 
The result is ten 40 foot long mobile canvasses, each focusing on a different landscape – from wide open skies and fields to famous landmarks and bridges. The quote that inspired the design is on the back of each lorry.
What impact has the project had?
The lorries are now part of FreshLinc's normal operations and are travelling all over the country (and beyond) on a daily basis, taking art out on the road and proving that art doesn't just have to be in a gallery – it can be anywhere, and appreciated by anyone. If you see one on your travels – then tweet using the hashtag #transportedart and let us know!
A further commission has just been released as part of this project, to create another set of designs for a further ten FreshLinc lorries. Whereas the first commission focused on engaging the wider community, the second will explore working more closely with FreshLinc's workforce, taking them through the commissioning process. Transported are also working with Boston Borough Council on a similar project for their refuse freighters.
Alisha hopes that when she goes back to see the pickers and packers they will feel that the artwork values their role in society.
"People don't really think when they buy a cabbage from Asda that someone has stood in a field and cut it with a knife. Broccoli and pumpkins are also handpicked by someone, I hope they see it as a validation of their work. A lot of the guys said they liked working outdoors and that me going there looking at things like the sunrise or the colour of the brussell sprout leaves made them think about it a bit differently." Alisha Miller
The project appealed to the lorry drivers, raising morale and creating discussion about which lorries they want to drive. Some of the lorry drivers have already brought their families to other Transported shows.
Watch this short film about the impact of the project and download Alisha Miller's descriptions of the inspiration behind each artwork.
Watch more films from Transported here