Culture Club
Social clubs back in the cultural heart of the community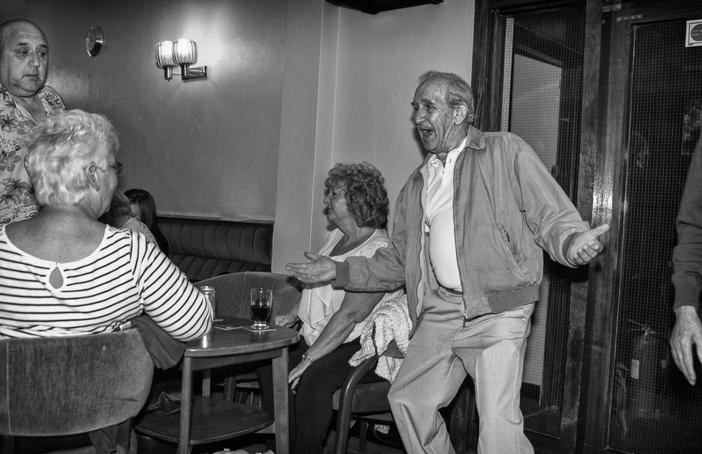 Members of Guide Post Social Club are working with curator Andrea Hawkins to put the club back in to the heart of the local community. 
The project
Andrea Hawkins has been working with Guide Post Social Club for 18 months. She first pitched the idea at a meeting with around 20 CIU clubs in the Blyth district asking for volunteers to offer arts activity in partnership with bait. Guide Post Club Treasurer Joyce Watts and Chair John Watts came forward and since then the club's dedicated committee of volunteers has been working with Andrea and artists including ceramicist Emilie Taylor and photographer Mik Critchlow to make a difference in their local community.
The project has resulted in an exhibition of work created and inspired by the people and heritage of Guide Post Social Club. The Share - A Portrait of Guide Post CIU and the cultural life of a community was exhibited at Woodhorn Museum.
"I wanted to help the club re-energise and become sustainable and Joyce saw this as a chance for the club to thrive once more, using art and cultural actives as a way of engaging the community. Clubs have a fascinating history - set up in the late 1800s by Henry Solly, they were owned and run by their members, not controlled by their employers, which was quite revolutionary at the time... From the beginning, clubs saw arts and culture as essential to members' lives, the history of these places is incredible." Andrea Hawkins

"When Andrea came to talk to the CIU committee we were after ideas to keep the club going. People were coming, but not really running activities, just coming in for a drink. There's no community centre in Guide Post, so we want the club to become the heart of the community." Joyce Watts, Guide Post Social Club
The club decided they would like to have artists in residence – Emilie Taylor and Mik Critchlow - and regular family workshops on Sunday afternoons once a month. This brings together different sections and ages of the community and helps people to express their history through art.  Andrea says: "It's an interesting way for people here to think about who they are, their identity and their relationship to the club. By doing that they have a better understanding and appreciation of their own cultural heritage - having artists here is a great way to bring that out."
Ashington-born social documentary photographer Mik Critchlow has been in residence at the club for ten months, getting to know people and capturing the day to day life of the club on camera. His photographs form part of the exhibition, alongside club members' own work produced in a photography project with the Ladies Darts Team led by Mik and at workshops with local artists Natalie Frost and Louise Bradley.
Ceramicist Emilie Taylor worked with the Over 60s Bingo Club to create a series of drinking vessels – each telling the story of the member who made it - and a bingo board reflecting personal memories as well as the history of social clubs.
"There's something in the process of craft and making that brings out personal experiences; the method, repetition and making really opens people up. This project is all about the idea of community, sharing and sociability - people coming together." Emilie Taylor, Ceramicist
What impact has the project had?
"I played bowls for 30 years but where we played closed and I've really missed it. This has given me something to get up for - I like the company and Emilie is a great tutor. I've enjoyed it very much." Margaret, Guide Post
"I think it's absolutely wonderful. I'm part of a quilting group, and I took a flower arranging class for six years but the rent went up so we had to stop. People really benefit from doing things together, it broadens your experience." Helen, Stakeford
The committee and its members came up with the idea of a 21st century reading room with digital equipment and resources. Businesses including AkzoNobel, Sage Software and Tees Music Alliance donated equipment.
"Members will be able to use the digital reading room to download books, use the internet for homework, and we'll run sessions and teach IT skills in there. We've converted the committee room on the ground floor so it's easy for everyone to access." Joyce, Guide Post Social Club
The local football club has transferred to Guide Post CIU and the club is meeting with the parish council to look at new ways to work together and form longer term partnerships.
"It feels like things are starting to click together. As I walked through the door today [after Emilie's pottery session], I got some great feedback. It's been well worthwhile having Andrea on board, I think she's great; she's got loads of ideas." Joyce, Guide Post Social Club

"Joyce and John are the real heroes, it's a big step into the unknown but they've really welcomed us in. They're a great example for other clubs - opening their doors, trying something new and different, really engaging with the community." Andrea Hawkins