Elsoms Creates
A film about a workplace arts residency with Elsoms Seeds in Spalding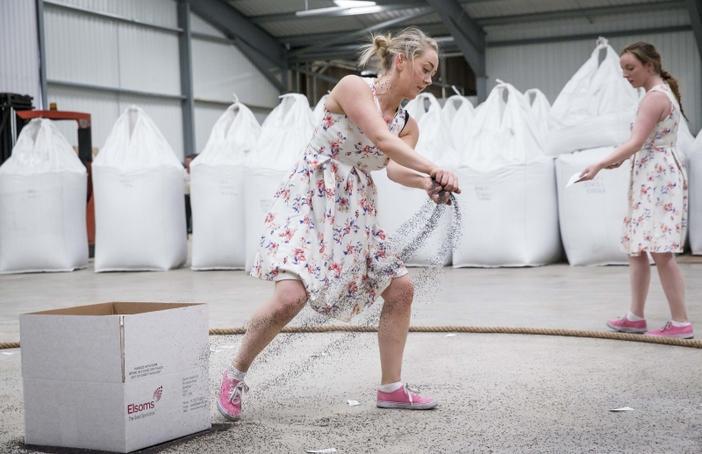 A six week residency in a local seed factory with dancers and a choreographer working with Elsoms staff and students from a local school.  Watch the short film below to find out more.
The project
Transported works with local businesses to create new arts experiences for the workplace and to bring live performances to the area. In summer 2014 it commissioned creative arts company Assault to work with Elsoms Seeds, a longstanding family-run business in Spalding, to create a music and dance piece for and about the company.
"The main aim of this project was to make art happen where art wouldn't normally happen" Simon Hollingworth, Transported
During the six week residency the Assault dancers, director and choreographer developed the work by having access to the factory, warehouse and offices of Elsoms to talk to staff and see the daily activities of the business. Assault wanted to create a show that staff  would be interested in and would reflect their work and experience at Elsoms. The work was developed in the shared canteen space so Elsoms staff were able to see what was happening on a day by day basis. Students from Spalding High took part in workshops and came to performances too.
The final performance took place in the company's new warehouse and was incredibly personal to Elsoms. An Elsoms staff member performed as a violinist in the final event after not having played for many years. 
"We try to de-mystify the difference, there's not much difference being a dancer or working in a factory, they're just different jobs. We are making the art something everyone can access." Assault artist
What impact did the project have?
Elsoms felt that the process and the performances had created a sense of pride and boosted the sense of community amongst the workforce
"The final piece was uplifting and reflected postiive things people had said about Elsoms; people came away feeling uplifted." Elsoms Chairman
One older man cried when he saw the performance. He said he didn't know why but he that he was touched by it and he felt it was uplifting. 
The project brought all the employees at Elsoms Seeds together and there was a sense amidst the Elsom employees when they viewed the final piece that the company valued and wanted to invest in the colleagues that work there.
The school now sends students to other Transported events and an arts residency beyond the programme with Highly Spring. They have work experience at Elsoms and are more embedded in the community.
Assault wanted a positive focus and to create a sense of pride in an amazing workplace:
"There's a great feeling of family with a history going back a long time. Side by side you've got a working machine which is 100 years old and a new one costing millions of pounds... we wanted to reflect all that in a way people could recognise and feel a sense of pride." Assault artist
"For us it's been an interesting process. Our first reaction was why not let's give it a try, as it's developed it's become an interesting opportunity for us at Elsoms to reflect on who we are and what we do – we spend a lot of our time looking forward and planning what we're doing in business, this is a good opportunity to stand and watch, but also to reflect on who Elsoms are, what we are and some of our values, and the people who work here." Elsoms Chairman
"There were different levels of engagement, including Katie playing the violin in the performance, approximately twenty colleagues who got involved in the process, other members of staff who watched on coffee breaks etc., and colleagues who just came to see the performance." Sophy Smith, Assault Events
"It feels strange now not having the company around and having that interaction and creativity going on." Elsoms staff

"It opened up people's eyes to how valuable the arts can be." Elsoms staff
During the course of the project, over three hundred people were involved and/or saw the final performances.
Transported and Elsoms agreed another artist residency using photography to record and curate an exhibition on harvest past and present. Elsoms will also host a business lunch to promote the value of arts in the workplace.South Holland Centre will trial ticket promotions to track staff from workplace to public arts performances. Assault have been given the confidence to take their method to other workplaces.
Watch more films from Transported here