Get Sketchy
Drawing out talent and creativity in Doncaster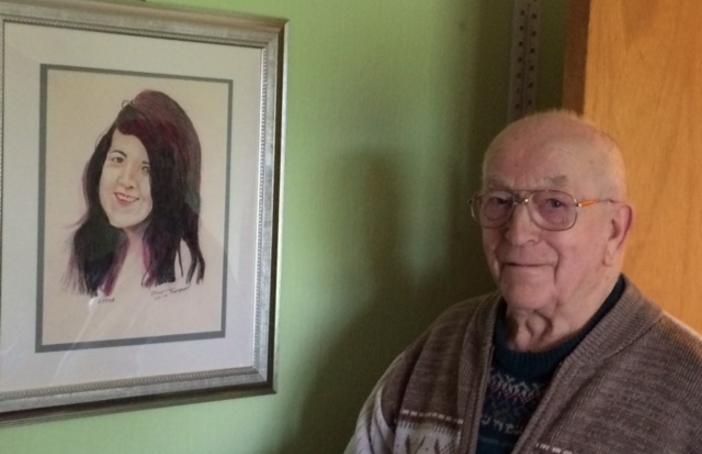 In his bungalow in Rossington with his drawing table in front of him, 84 year old Frank Thomson talks of his artistic journey. 
"I've had an interest in painting all of my life. It was only landscapes that I painted; I'd go out to the countryside and paint what I could see. I did this for years and years. My parents didn't think that studying art was something I should do and we had a real fall out over it. They pushed me into engineering. I left school and joined the army but I've always painted.
"I was not a professional I just painted for pure enjoyment. When my wife died, twenty years ago, I got into abstract painting which was really emotional painting and it helped me to deal with my grief.
"As I got older it became more and more difficult to get out and about so I started drawing pictures copying from photographs. I had attempted portraits many times over the years but I just couldn't get them right and the results were terrible."
This is when Frank discovered the Right Up Our Street project and Rossington Arts supporter, Katherine Warman. Katherine had been drawing people's portraits in Rossington and giving them away for free. She held an exhibition of those portraits 'Outline' at a local cafe, the Market cafe late in 2013.  Frank went along to a Drop in Drawing session in March 2014 and got his portrait drawn by Katherine at Holmescarr Library the following month.
"One day I attended a drawing session at the Rossington community centre and thanks to the advice of Katherine and Dave Smith something just clicked.  Dave is another local artist working in Rossington, who delivered some of the drawing sessions. Between them the advice and tuition they gave me put me on the right path and suddenly the portraits looked how I wanted them to look.

"The help the two of them gave me put me straight with a problem I'd struggled with for 60 years! This led me to drawing portraits of my family and a portrait I painted of my great granddaughter, Emma, has been on display at the Doncaster gallery – that was a very proud moment for me. It's true to say that art has kept me going. Drawing occupies my time and there isn't a day that I don't sit at my drawing table.

"The Right Up Our Street team introduced me to pencil drawing, I'd always painted up until then, but now I can pick up a pencil and sketch something.I've recently got a tablet and am trying to work my way around that and working out how I can use it for drawing."
Frank's bungalow is a testament to his years of painting and drawing with landscapes and more recent works of art – family portraits and animal paintings hanging in pride of place.
"Having a hobby like drawing or painting means that you've always got something to do. I make sure I keep my body fit by going on my exercise bike but I keep my mind fit by drawing. I'm so glad I went along to the community centre for the drop in drawing session as it has given me a new skill and one which has seen my work hung in a gallery, not bad for an 84 year old!"
"It was great to meet Frank and help him develop his skills. We were so proud when his portraiture artwork was selected for Doncaster Art Gallery's 'Open Art' Exhibtion in October 2014. We've met and worked with some fantastic characters through this project and are looking forward to another year of community inspired art in Doncaster." 
Katherine Warman, arts supporter for Rossington