RUSH
A mass movement spectacular performed in South Tyneside with a community cast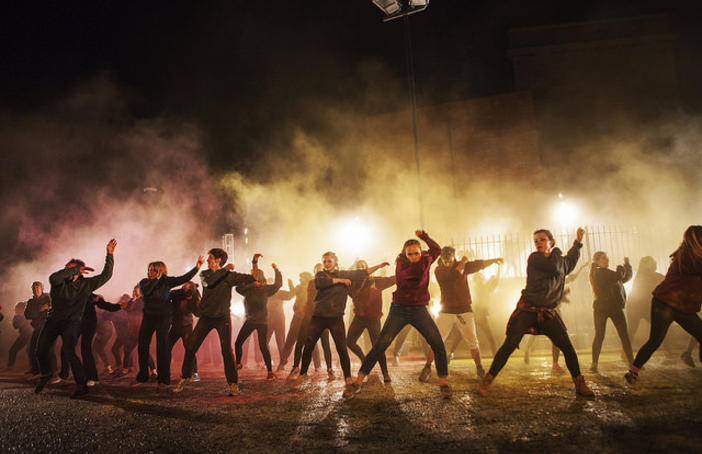 The Cultural Spring commissioned Southpaw Dance Company and Event International to create mass movement spectacular RUSH which was performed in South Tyneside in April 2015 with a community cast.
The project
The project explored mass movements and popular protest. It aspired to give a voice to grievances, tell the stories that matter, and find an outlet for everyday frustrations in a huge release of energy and creativity.
Over 11 weeks around 120 local people took part in dance, writing and film workshops across Sunderland South Tyneside and East Durham to create RUSH. The workshops were led by Artist Director Robby Graham with dancers from Southpaw and writer Ellen Phethean. The piece follows three archetypes: a zero hours worker, a young mother, and a homeless character. Through the lens of their stories we tell the wider story of the issues people in areas of low engagement face.
The workshop were originally targeted at people between the age of 16-65, however, the team was delighted to receive a very valid objection from a lady who was over 65 who wanted to get involved so they were changed to age 16 plus. The Cultural Spring worked with schools, colleges, and youth groups alongside a number of open access adult groups.
Event International and Southpaw brought together a excellent creative team – with projections by Novak Collective and sound by Ed Carter. The Cultural Spring also partnered with East Durham Creates (another North East based Creative People and Places project) to include groups from East Durham and with South Tyneside Council who supported them to present the performance at St Hilda's Colliery.
What was the impact of the project?
The audience response was glowing including an unprompted letter to the local paper The Gazette by an unknown audience member who wrote:
"I JUST wanted to say how brilliant the concept and writing and dancing and production and directing was for the brave Rush dance event recently, which my grandchildren ages 10 and 13, along with myself and my daughter, thought was brilliant and exciting. We hope there will be a video online for everyone to get the opportunity to see that enterprising event, critical of our society, for all those who missed it. Thank you to all the performers and organisers for the experience."
Most exciting however was the response of participants who danced in the performance:
"This was a fantastic experience. The quality of the teaching, choreography and production was just fantastic. And, to perform live outside in front of an audience was incredible. A huge privilege."
"Absolutely one of the best things I have ever done in my life. Wish I could do it again."
"Such an amazing, inspirational and exciting event to be a part of. Rehearsals were physically demanding but it paid off in the final show. I want to do it again."
The project has had a longer term impact in the area.  The Boldon Dance Group have called themselves the Rushettes and are continuing to meet weekly and The Cultural Spring are planning to apply to the Arts Council's Strategic Touring fund so that RUSH can undertake a national tour in 2016.
Film
Rush 2015 from Southpaw Company on Vimeo.