SoundSwarm
Masterclasses in creating original music, recording and production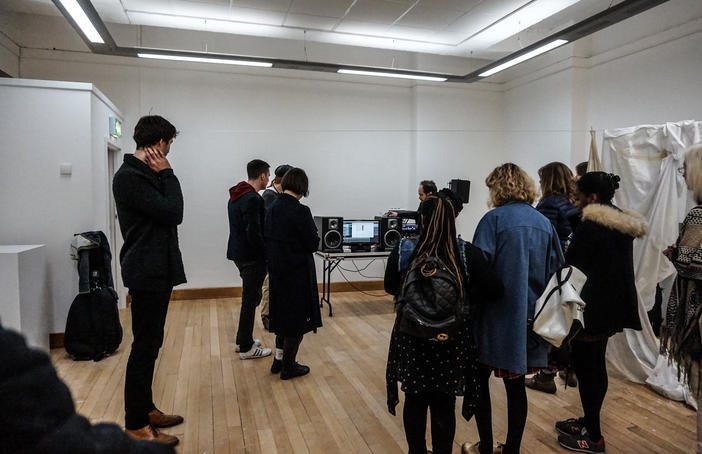 SOUNDSWARM is a Peterborough Presents project that responded to a demand for more opportunities for emerging musicians to learn about creating original music. It took place alongside the Live Art exhibition, Wash Your Dirty Linen in Public in February 2016, to bring a different audience into the City Gallery.
The project
The Emerge Network runs alongside the Young Producer training strand of Peterborough Presents. The network offers opportunities for artists, producers, and just those looking to get involved with something new, to work with Peterborough Presents to create activity that would appeal to audiences in their own age group.
Members of the network had expressed an interest in developing their skills in creating original music, and taking the next steps with music production, recording, and performance. This interest had also come out strongly in a Peterborough Presents focus group, which indicated that the wider community would also be interested in a day of original music masterclasses. The Emerge Network Coordinator, Rebecca Jackson, in partnership with Peterborough Music Hub, curated a feast of free taster sessions over the course of a day, all focused around developing original music artists to take the next step with their music career.
The day featured masterclasses in song and lyric writing, professional recording, music technology, performance skills, and music business skills. Throughout the day there was a pop-up recording studio where participants could book a slot and receive feedback on how to perform for a recording using professional industry equipment. To give participants an opportunity to meet with local industry professionals, Peterborough Presents also held a networking lunch and invited key stakeholders from the music hub, local radio, established bands, councillors, and representatives from local organisations to help establish long-lasting relationships. 
The main challenge was the logistics of transforming the gallery space into a workshop environment with professional music equipment, without compromising the live art exhibition. However, the location gave the music participants a chance to find out more about the exhibition and discuss it with the artists.
What was the impact of the project?
The workshops sold out and over the course of the day 60 participants and key stakeholders attend SOUNDSWARM. 75% were aged 25 and under.
SOUNDSWARM offered an inspiring creative experience and signposted participants to existing organisations in the city such as Peterborough Music Hub.
One of the participants of SOUNDSWARM, Rufus, has since been successfully accepted onto the Emerge training programme, and as part of his artistic development he will be working on a music/sound installation project at Peterborough Lido in August 2016, in which he will work with other participants of SOUNDSWARM to continue their development.
"I enjoyed the in-depth discussions of music business and mixing. The hands-on involvement in beatboxing was fun and inspiring."

"I very much enjoyed the wide range of topics, and felt they got progressively more in depth as the day went along."

"The beatboxing was fun and lyric writing was eye-opening."