TakeOverFest
Scottee's 'takeover' festival brings exciting arts events to unusual spaces in St Helens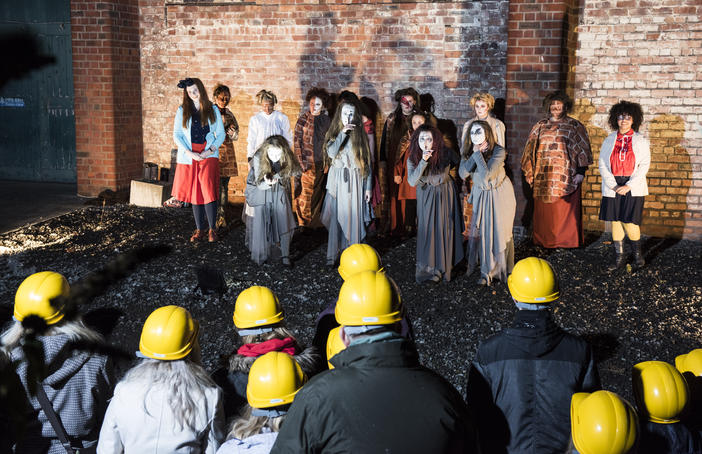 TakeOverFest 2015 was a three-month arts festival full of exciting things to do in St Helens. Heart of Glass invited artist Scottee to 'take over' and develop the first annual TakeOverFest, an artist-led programme of work for and about the people and place of St Helens.
The project
In late 2014 Heart of Glass invited artist and broadcaster Scottee to St Helens and this was quickly followed up a residency in early 2015. They asked Scottee to curate the first TakeOverFest, an artist-led programme of work for and about the people and place. Scottee sourced artists from across the UK and invited them to take over empty shops, parks, tunnels and even minicabs to create a fun festival for all ages. Tickets ranged from free to £12.
The aim of TakeOverFest was to create a fun, accessible and varied festival for St Helens at a range of surprising venues. Based in an area of low arts engagement, Heart of Glass wanted to demonstrate the variety of places and venues where art can be presented as well as who and what an artist can be.
"It's about getting everyone involved in art, even if they're people who don't feel galleries are places they can visit. When I worked with Heart of Glass last year, lots of people said 'nothing happens in St Helens'. So I dreamed up TakeOverFest as a fun, engaging way of using unusual spaces, which make you see the town in a different way." Scottee
The target participants for TakeOverFest included those who infrequently engaged with the arts, with a focus on those at risk of social exclusion, the queer community and under represented communities. Partners included Scottee, St Helens Council, The World of Glass & The Citadel Theatre, Helena Council and Arts Council England.
TakeOverFest programme
The programme included raves for kids, knitbombing, stand up poetry, haunted ghost tours and a live art café where people could enjoy a cheap brew with tableside performances and take away art.
Knitbombing in the park

Fraff  - stand up poetry in the library

Haunted Furnace - an interactive performance with artist Marisa Carnesky and young women from St Helens in the underground tunnels of the original Pilkington's glass factory 

Hunt & Darton Café - live art and tableside performances

Le Gateau Chocolat  - operatic performance

Jack Rooke Come Ride With Me  - comedy in a mini cab

IncrEDIBLE Poetry  - make edible poetry in a café and then eat it

Scottee's Camp  - cabaret event

Kids' Rave!  - under 8s themed event
A key challenge was selling all 865 paid tickets for a new arts festival in the town. Heart of Glass worked closely with partners to achieve this, as well as delivering a  three-month communications and marketing plan. They also benefitted from the building momentum of the three-week festival. 
As curator Scottee also felt that it was a challenge to break down the town and local media's pre-conceptions of what the festival might be.
What was the impact of the project?
TakeOverFest has shown there is an active audience for arts in St Helens, who will return for multiple events and are willing to pay for tickets. Multi-platform artists excited people in the borough and there's now a proven appetite for the work. TakeOverFest has left people wanting to know what's next from Heart of Glass.
"Across 9 events, over 3 months, 2000 people from across all 5 boroughs laughed, cried and ate roast dinner sandwiches with us. We transformed old shoe shops into art cafes, The Hotties into a feminist ghost train; we even put a pop-up-stand-up-poetry-club in Central Library!

My personal highlights include watching 150 children at Kids Rave get covered in cereal, the beautiful Le Gateau Chocolat transform the World of Glass cone into a night at the opera, the brilliant Grey Ladies (a performance group of local young women) make me jump out of my skin for Halloween, Jayde Adams' unforgettable Adele impersonation at Camp and Jack Rooke's intimate taxi journeys across town discussing the loss of his Dad." Scottee
What lessons were learned?
The nature of the festival provided Heart of Glass with the opportunity to learn from each event and improve processes for the next.
As the festival was host to Heart of Glass's first ticketed events, they also learned some valuable lessons regarding ticketing over multiple venues and audience buying patterns which will inform future events.
There were also lessons learned about scheduling with some clashing dates early on and an uneven balance between very busy periods and much quieter ones.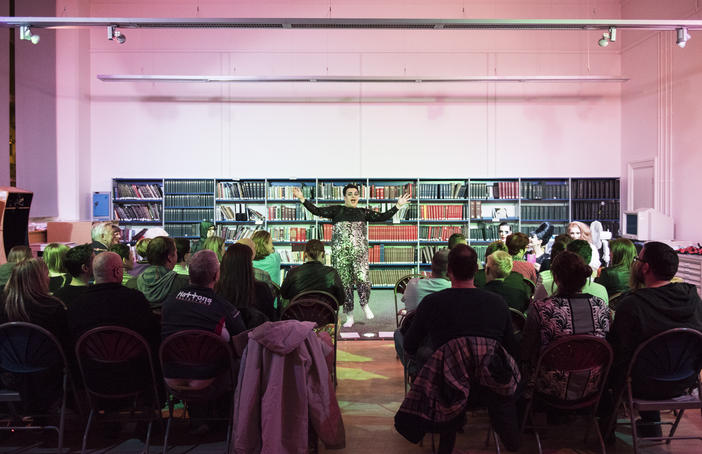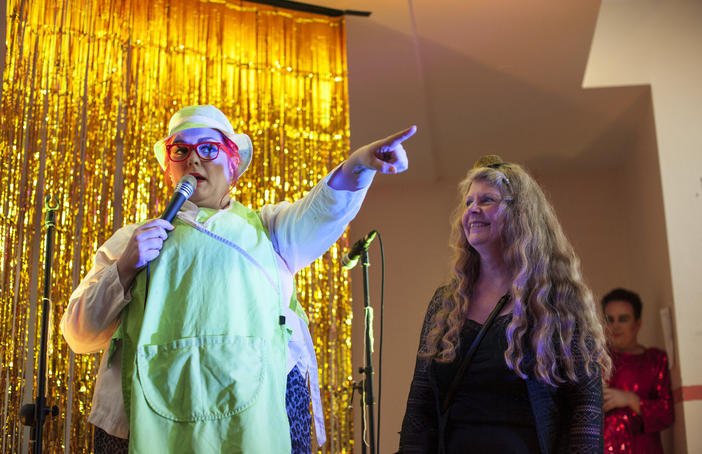 Photos: Stephen King