Two Pints of Lager and a Piece of Contemporary Dance
A pop-up pub tour in Doncaster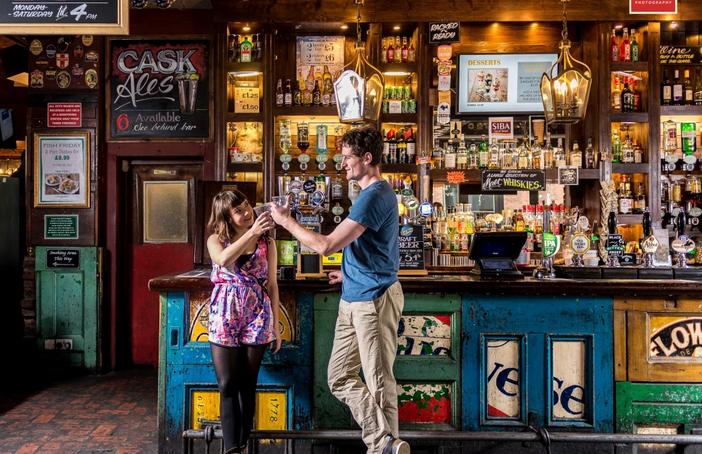 A pop-up tour of a short contemporary dance duet in 15 different pubs and workings men's clubs around Doncaster borough, led by choreographer Nina Von Der Werth.
The project
'Two Pints of Lager and a Piece of Contemporary Dance' was commissioned as part of the Right Up Our Street N-Strand Open Call Commissions in February 2015. The performances took place in April 2015.
The target participants were 'pub drinkers'. As the performances took place in a variety of different areas around Doncaster and at different times, it was anticipated that the project would engage with a wide range of audience members in terms of age, gender and social- class.
As well as the pop-up performance of a contemporary dance duet, the project actively engaged with people who had seen the piece by asking them to fill out a short feedback form which was printed on to the back of a beer mat and by having short conversations with people.
The most successful performances were in busy pubs where the set-up was less obvious and therefore the pop-up element presented more of a surprise. There was often some initial confusion in the audience, but once the piece started to develop and people were able to follow the story, they became less wary and started to enjoy the performance. 
What impact did the project have?
The dance piece was performed to 282 people. This is not the total number of people in each venue, but the number of people who actively engaged with the performances. 142 beer mats were completed.
The project had a positive effect on both the people who watched the performances and the venues, as it made them feel that they were privy to something a bit different and a bit special.
"After each venue we were met with overwhelmingly positive feedback. Of those who didn't enjoy the performance so much, all except one said that whilst it was 'not their sort of thing' they either appreciated that it took a lot of effort/'bravery' on our part or that it was at least like nothing they had ever seen before. 

"The most positive outcome, is that most people agreed that it was time that more projects like this happened in and around Doncaster, so the want for arts and culture is most certainly there – even in the places where you might least expect it." Nina Van Der Werth
The project provoked a thoughtful response in people who generally said they had had no engagement with the arts in the last 12 months.
Audience comments:
"We don't get much culture in Doncaster and it's about time we did"

"There's a difference between finding it clever and enjoying it"

"I would like to see you do something where you've got a bit more space, on a stage maybe"

"It's not really my thing, but I can tell it took a lot of rehearsing so well done"

"At the end of that I don't remember a single person not clapping"

"It would be nice if it was a bit more unexpected"

"Made a change for a Friday night at the pub"

"It's something I've seen on holiday but never around here"

"You're all very brave"
Right up Our Street are considering how they can build on this project, including establishing longer residencies in a few venues, rather than one-night-only performances. It is also exploring following up this piece with another project to be performed during a festival in the town centre.