Worlds Apart
Fostering our future talent through theatre in West Yorkshire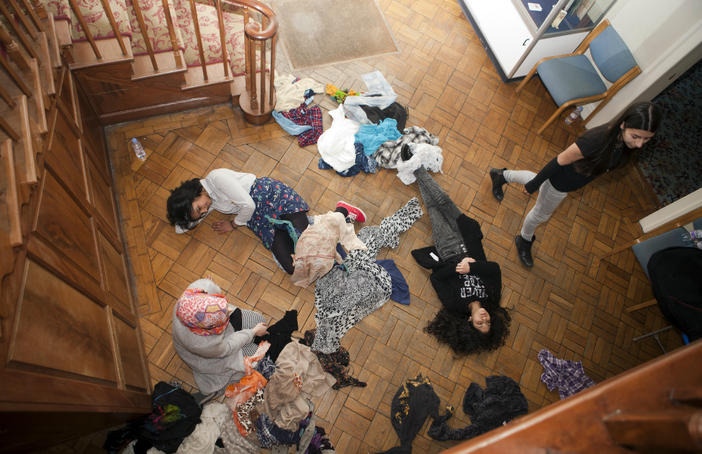 Worlds Apart was a unique opportunity for young women of South Asian heritage to work with Chol Theatre and Common Wealth to create a brand new piece of site specific theatre. Inspired by the life and times of Charlotte Bronte, this piece examined what it meant to be young, brave, determined and challenge popular misconceptions.
The project
A lot has changed since Charlotte Bronte visited her friend Mary Taylor at Red House Museum in Gomersal, West Yorkshire. In February 2015, four young South Asian women got the opportunity to explore what it meant to be young, brave and determined…just as the Bronte sisters did before them.
Artists from Chol Theatre based in Huddersfield and Common Wealth based in Bradford worked intensively with four young women aged 15-19 to create a bespoke piece of site specific theatre at the historic Red House Museum, former home of Mary Taylor, best friend of Charlotte Bronte.
This project, as part of Creative Scene's "Future Talent" programme, looks to give young people high quality, intensive arts experiences for the area's future cultural leaders aged 14-25.
The four young women involved in the production were recruited from various engagement sessions that took place in youth clubs and schools, as well as public call-outs featured in local newspapers, cafes and shops.  The project was intensive, taking place over a week during February half term, and gave the young women a chance to explore the Bronte heritage locally, as well as researching further afield through trips to nearby Haworth Parsonage. Working with writer Aisha Zia, the girls were also able to explore their own connections to the Bronte story, feeding into the script along the way.
The resulting piece, directed by Common Wealth's Evie Manning took place inside the Red House Museum. Museum staff took down the public barriers, allowing the young actors to engage with the building and its contents. 
The young performers moved from room to room, encouraging the audience to follow their individuals stories or simply catch snippits through the walls. The script, written by Aisha Zia and influenced by interviews with young women met throughout the process had a strong message- we are proud to be girls, and we aren't afraid of who hears it.
What impact did the project have?
We engaged with 60 young people through workshops and development sessions leading to auditions.
Six young women were cast in the production, but due to family bereavement only four women were able to take part in the final piece.
In addition to providing such a high quality experience for the young people involved, it was also hoped that these young people would bring with them an audience of people who had not previously visited Red House Museum in the past.  Most of those who attended stated that they had not been to the museum previously.
"The four young women were brave and rebellious and they gave you so much of themselves that you instantly connected to their innocence and honesty. A beautiful piece, a very important and much needed piece of theatre. I await the future of this project." Shazia Ashraf (Audience member)
"I was thrilled to see Red House transformed from a museum into a family home once again. The girls enabled this transformation to take place by being so at ease and confident in these historic surroundings. In doing so they made a direct connection across nearly two hundred years ago, evoking the restless, rebellious spirit of the young women writers we so associate with Red House." Richard Butterfield, Kirklees Council